How to Select Your Frame
How to Select Your Frame
Selecting a Frame: Size/Fit, and Material
Selecting the proper glasses frames includes not only the style element but also the size, the shape, and your prescription, and how your lenses will look in the frame.
Glasses Frames- How to choose the correct size.
When shopping for glasses frames, whether for prescription or non prescription, it is really important that you choose one that fits properly. Ideally, the glasses should be wide enough so that the temples, or 'arms', go straight back to your ears without putting pressure on the side of your head. That pressure can result in headaches and unsightly dents in your head, and nobody that I know wants dents in their head. Glasses frames should also not be so wide that they slide down your nose all the time.
All prescription frames are sized based on 3 measurements, in millimeters-
1- The length or width horizontally, of one lens in millimeters (mm).
2- The length or width of the bridge, again, in millimeters (mm).
3- The length of the temples in millimeters (mm).
So a typical size might look like "51-19-135" (lens-bridge-temple) This information is important to opticians but because of the widely different frame styles available, these numbers are fairly meaningless to most eyeglass shoppers. For example, some temples come out further from the frame front to fit wide faces, which means that people with wide faces can wear glasses frames with smaller measurements. That is why we include the "Fit" along with the size.
TIP: If you own a pair of eyeglasses and know the size, you can find frames in the same size by searching our frame filter.

Another way to choose, is to pick a frame size you own, or have tried on that is comfortable for you. Measure the total width of your current eyeglasses in inches. For best accuracy, measure from inside temple to inside temple. Convert to mm below:
A Chart-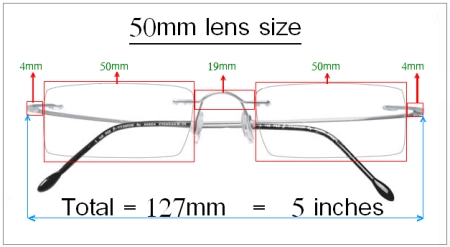 Here is a reference guide with approximate inches conversions:
Lens (mm)= Total Frame Width (inches)
Size 44 = 4 1/2
Size 46 = 4.69
Size 48 = 4.83
Size 50 = 5
Size 52 = 5.16
Size 54 = 5.32
Size 56 = 5 1/2
If you know the total width in inches, of eyeglassses that fit you, then just pick the lens size that most closely cooresponds.
Each style of reader you see on our site is designated by "fit"*:
Extra small = 42-45
Small = 46-48
Small Medium = 48-50
Medium = 49-52
Medium Large = 53-55
Large = 55-56
Extra Large = 56+
*This is a rough guide. The thing is, is that the extension of the temples and the bridge width can make a big difference in the "fit". A 46-22 can fit the same as a 48-18. Both are 114mm across.

Here are 2 handy calculators-
Millimeters to inches-
And inches to millimeters-
Glasses Frames- Frame Materials
At Mojo Optical, we want you to be an informed shopper. When you browse through our fine collection of eyeglass frames, you will see a name for the frame materials, like 'Acetate". What in the world is Acetate? Well, here is where you can find out.
Eyeglass frame come in many different materials. Some are heavier, some are lighter, and some materials allow for many different colors and color schemes. Below is a list of various glasses frames materials and their basic properties, and advantages and disadvantages.
Metal Frame Materials-
TITANIUM- Pure titanium and Beta-titanium are the best metals used in the industry today. Pure titanium is a gray metal which is very common but requires unique technologies to produce. Beta-titanium is usually titanium combined with other metals that give it more flexibility and sometimes costs less than the 100% titanium frames Both of these are sometimes plated to add color.
Advantages: Very lightweight. Strong and durable. In some cases very flexible.
Disadvantages: Pure Titanium- None. Beta-Titanium- If the metal mixture contains nickel, it is not necessarily hypoallergenic.
Hypoallergenic?- Pure= YES Beta= Maybe
STAINLESS STEEL- A good alternative to titanium, stainless steel is also lightweight and less expensive than titanium. There are varying grades of stainless steel used. Some have higher amounts of chromium which provides corrosion resistance, and some contain no nickel which makes them hypoallergenic.Usually, but not always, the price would reflect the better quality stainless steel.
Advantages- Affordable, lightweight, corrosion resistant, and sometimes hypoallergenic.
Disadvantages- Some of the cheaper stainless steel frames are, well, cheap. The price will usually reflect the quality.
Hypoallergenic?- Yes. (If it is of good quality)
NICKLE ALLOYS- Most budget metal eyeglass frames are made with a combination of nickle and other metals. The quality can vary a lot and is usually reflected in the price. A $10 pair of frames will be pretty much disposable. Frames made with better alloys, depending on the combination and quality can run from $29 to over $200 for designer frames. Metal Varvatos frames are nickle alloy and with care will last a long, long time.
Advantages- Can be affordable, fairly lightweight, thin.
Disadvantages- The price will usually reflect the quality which has to do with the combinations of metals used and the workmanship in producing it.
Hypoallergenic?- No.
Glasses Frames -PLASTIC FRAME MATERIALS-
ULTEM - ULTEM is a new plastic material that is lighter than titanium and very flexible. Like titanium it is also hypoallergenic.
TR90 - TR90 is also fairly to and like ULTEM is very light weight but has a more rigid feel. This is a very tough material that stays in shape really well even without spring hinges. Hypoallergenic.
CELLULOSE ACETATE PROPIONATE- Acetate. A very lightweight plastic, this material is durable and can be made with interesting colors and even with a transparent look. This is a nylon based material. Hypoallergenic.